UK Space Agency CEO Dr Paul Bate visits Space Park Leicester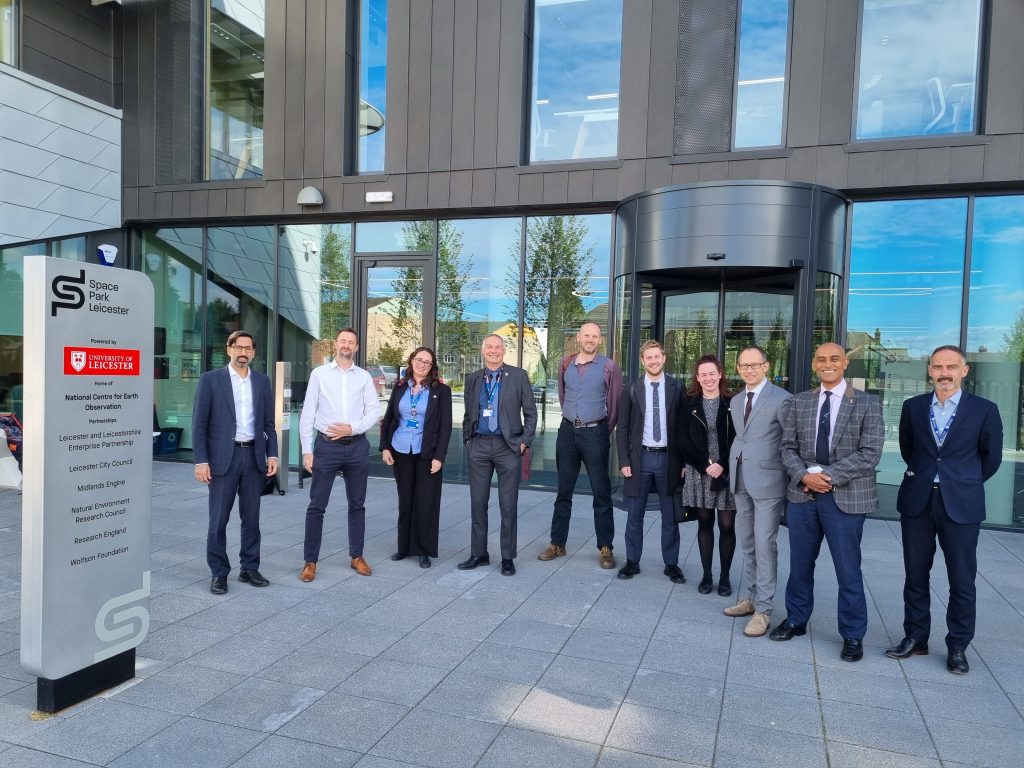 New UK Space Agency CEO Paul Bate took a tour of the new £100m facility
The new Chief Executive Office of the UK Space Agency has wasted no time in visiting Space Park Leicester. Appointed in September, Dr Paul Bate is taking part in a UK-wide series of meetings to gather information about key stakeholders in the UK space sector.
Joined by Mike Taylor, Head of Strategy and Governance, UKSA, Paul and Mike were given a tour of the first phase of Space Park Leicester before being joined for presentations and discussion on Leicester space activities by academics from the University of Leicester, the National Centre for Earth Observation and the National Space Centre. Paul continues his visit to Leicester with a trip to the National Space Centre and the Space Research Centre at the University of Leicester.
During his visit, Paul commented:
"I had the opportunity to visit and learn more about Space Park Leicester this week – it is a phenomenal piece of infrastructure with a strong philosophy behind it. Its end-to-end approach combines academia, entrepreneurship and investment, and provides support for organisations looking to pull the spark of an idea through the design, manufacture, implementation, and application process. Space Park Leicester delivers amazing value and is helping us level up the space sector across the UK."
Phase 1 of Space Park Leicester opened earlier this year, with Phase 2 laboratories, workshops, offices and a six-metre high clean room, coming online in February 2022.
There are also plans for a further development on the Leicester site, with a commercial Low Cost Access to Space (LoCAS) payload, space system and small satellite manufacturing facility.
LoCAS will address the UK's need for capacity to build payloads and space systems for constellations and will provide a pipeline for burgeoning UK launch services, lower the barriers to new entrants in the market and support the development of new business models for downstream services.
Paul was joined at Space Park Leicester by University of Leicester academics including Professors Martin Barstow, Sarah Davies and Richard Ambrosi.
Richard Ambrosi, Professor of Space Instrumentation and Space Nuclear Power Systems and representative on the Universities Space Research Association (USRA) Council of Institutions, added:
"Space Park Leicester provides much needed state-of-the-art, high-tech facilities for space research, development and manufacturing in the UK. We are delighted to have welcomed Paul to see the building and facilities and explain our vision for work class research, inclusive space education and collaboration with international industry."
Paul was appointed as CEO of the UK Space Agency by then Science Minister Amanda Solloway. Paul's mission is to continue the success of the UK space sector as it plays an increasingly vital role in the UK economy.
The new appointment underlines ambitions by the UK government to boost the commercial and scientific contribution of the £16.4 billion UK space industry, and ensure that innovation in space benefits everyone as we build back better.
Dr Paul Bate biography
Paul is an experienced board-level executive, working across the commercial and public sectors. Before joining the UK Space Agency, Paul worked at Babylon Health as Managing Director for NHS services before taking on responsibility for Babylon's sales across the world. During Paul's time at Babylon, the company grew 40-fold to its current £3bn valuation. Prior to Babylon, Paul was on the Board of the Care Quality Commission, the statutory regulator for health and care in England, with executive responsibility for strategy, policy, analytics, programmes and communications.
Paul has served two UK Prime Ministers as a civil servant – he was David Cameron's senior health and care adviser in Downing Street and led on health targets and finances in Tony Blair's Delivery Unit. He set up and grew a public services consultancy firm, 2020 Delivery Ltd, and started his career at McKinsey & Co. Paul has a PhD in Particle Physics, having studied at universities in Manchester and Paris and carried out research in Hamburg.
Paul commenced his role at the UK Space Agency on 6 September 2021.