EVENT: What does COP26 mean for Leicester?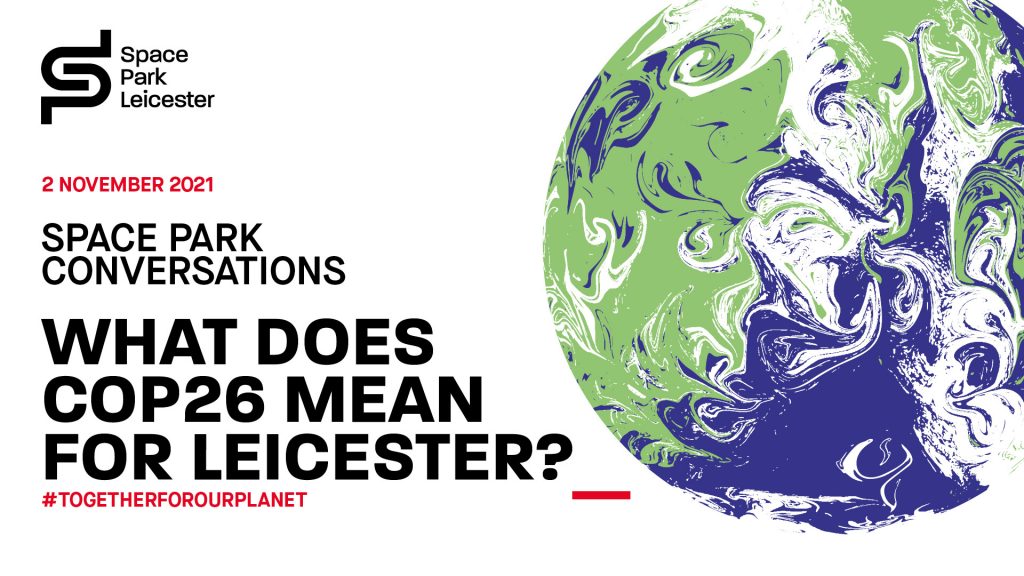 Join us for the first of a new series of in-person public talks hosted by experts from the Space Park Leicester community.
The UK hosts the 26th UN Climate Change Conference (COP26) in Glasgow from 31 October, but what impact with this have in Leicester? This special event, focuses on climate change and air quality.
Hear three short research talks, before an expert panel assembles to answer your questions.
Leicester has a long history of world leading research, innovation and action when it comes to tackling environmental problems. The University of Leicester and the National Centre for Earth Observation (NCEO), use data from sophisticated instruments in space to tackle today's greatest challenges, such as climate change and air pollution. Research is underpinned by state-of-the-art models, ground and aircraft observations and lab experiments.
This is the first in a series of talks called Space Park Conversations – aimed at sharing the research and expertise of the entire Space Park Leicester community.
17:30 – Registration and refreshments
18:00 – Welcome from Professor Sarah Davies, Pro-Vice Chancellor and Head of the College of Science and Engineering, University of Leicester
18:05 – Video update from John Remedios, Director of NCEO, from the COP26 green zone
18:10 – Talk 1 – Dr Rob Parker "What are Earth System models and how can they help us understand climate change?"
18:30 – Talk 2 – Dr Cristina Ruiz Villena "Finding methane leaks from space"
18:50 – Talk 3 – Professor Sue Page "Low carbon lettuce"
19:10 – Panel Discussion – What will COP26 mean for Leicester? A climate and air quality discussion.
19:45 – End
Send in your questions in advance on Twitter @SpaceParkLeic #SpaceParkConversations
Space Park Leicester is the new home for the headquarters of the NERC National Centre for Earth Observation.
Specialist research areas across both organisations include: Satellite Observations of Climate and Weather, Remote Sensing of the Changing Land Surface, Atmospheric Composition and Air Quality and Remote Sensing Technology, EO Missions and Laboratory-based Spectroscopy.
The COP26 summit will bring parties together to accelerate action towards the goals of the Paris Agreement and the UN Framework Convention on Climate Change.
The panel will aim to explain the climate and air pollution situation in Leicester today, and what the future may hold.
Panel members:
Panel chair: Sarah Davies, University of Leicester
– Adam Clarke, Deputy City Mayor – Environment and Transportation, Leicester City Council
– Anna Haskell, Professor of Environmental Epidemiology, University of Leicester
– Josh Vande Hey, Lecturer in Environment & Health, University of Leicester
– William Wells, Non-Executive Director, EarthSense