Unique offerings of Space Park Leicester revealed to international visitors
The unique offerings of Space Park Leicester were at the forefront of a mission to demonstrate what the UK space market has to offer to a delegation of Canadian business leaders.
Organised by the Department for International Trade (DIT) in collaboration with the Welsh Government, Scottish Government and partners, the Space Investment Mission aims to help Canadian space companies understand the UK space market, and support their plans for growth in the UK.
The heads of seven space-related companies located across Canada were given a tour of Leicester's £100 million facility on Thursday, March 10.
Professor Richard Ambrosi said: "Space Park Leicester is a world-leading cluster for innovative research, enterprise and education in space and Earth observation, representing the unique offering of a collaborative community for industry and academia to develop and grow.
"We were delighted to welcome our Canadian counterparts to witness the work taking place in the city, providing us with the opportunity to share valuable information, networks and contacts in business, academia and government to support potential investment and partnerships in the future."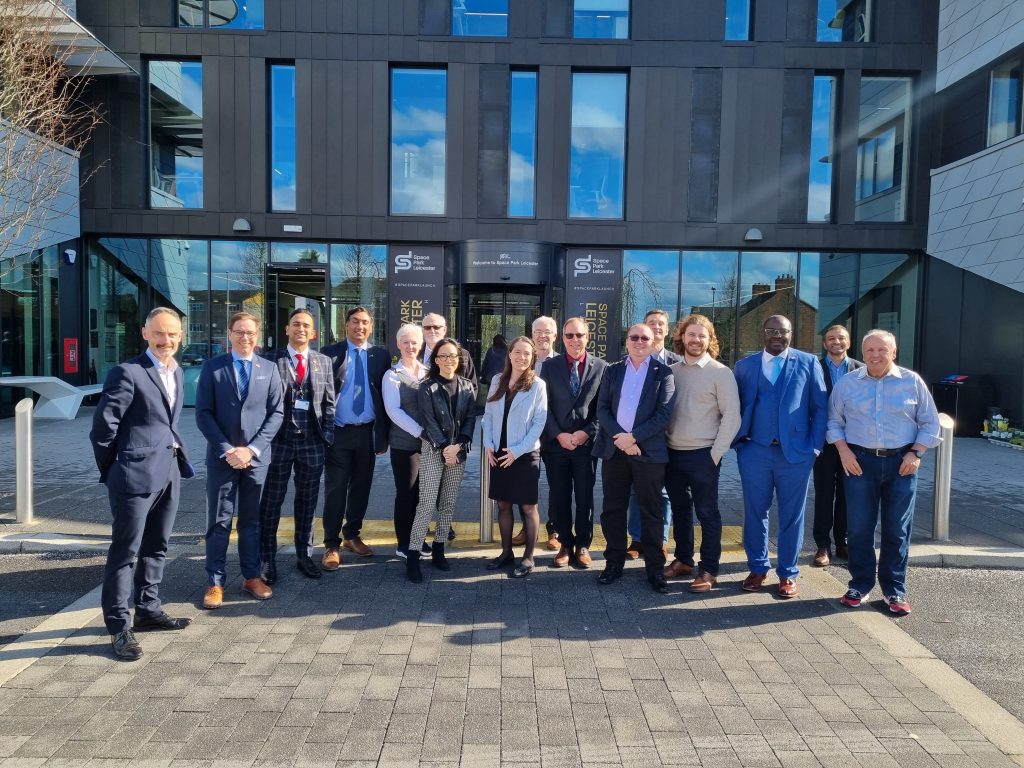 Space Park Leicester has been designed to enable collaboration between The University of Leicester's researchers and the private sector, creating high quality knowledge-based jobs, building the skills base, and contributing to economic growth and resilience of the economy.
The project is being led by The University of Leicester in partnership with Leicester City Council and the Leicester and Leicestershire Enterprise Partnership (LLEP), which provided an initial £8.1m of Local Growth Fund Investment towards the first phase of Space Park Leicester.
Kevin Harris, Chair of the LLEP Board of Directors, said: "Encouraging innovation in Leicester and Leicestershire is a core part of our Economic Growth Strategy through to 2030.
"By investing in what has quickly become an international hub of space technology, we are helping bring to Leicester highly-skilled jobs which are at the cutting edge of research and development."
Since opening in autumn 2021, the £100 million state-of-the art facility has already attracted a host of the world's leading space-related companies, including global IT and consulting firm CGI and Rolls-Royce, the UK leaders on creating mechanical, electrical and nuclear power solutions in space.
Mike Dalzell, Director for Tourism, Culture and Investment at Leicester City Council, said: "The Inward Investment team at Leicester City Council are working tirelessly to attract new investors and we are proud of the superb asset that Space Park Leicester brings to the City. We have big ambitions for this area to ensure Leicester is on the UK map as a key hub for space related industries and are keen to welcome businesses from all over the world to join this expanding and thriving sector. I'm delighted that the delegates from Canada have chosen to visit Leicester to explore the fantastic opportunities on offer."
Leicester City Mayor Sir Peter Soulsby said: "I'm very pleased to welcome the Canadian delegation to Leicester, and to see that Space Park Leicester is already attracting global interest and bringing potential international investment into our city."
Space Park Leicester boasts workspaces for companies of all sizes from those requiring a single desk to those needing a secure office. To find out more information about Space Park Leicester, visit: https://www.space-park.co.uk/join-us