University honour is latest triumph for student awarded highly competitive internship at European Space Agency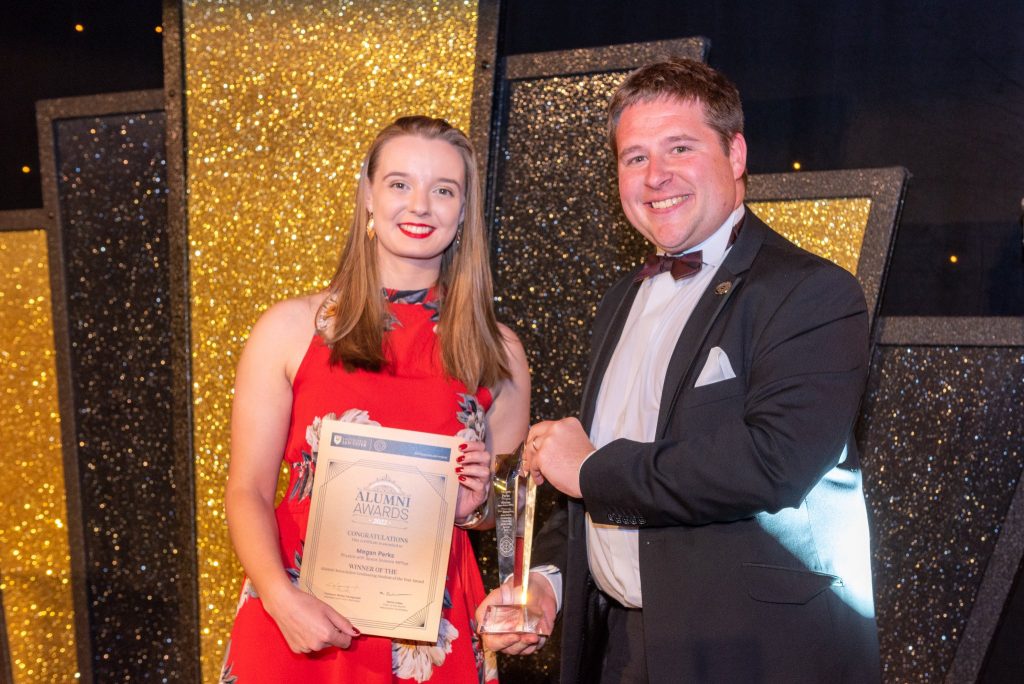 A Master's student at the University of Leicester has been applauded for her "outstanding contribution" to astronomy research after being named as Graduating Student of the Year at the recent Centenary Alumni Celebration.
Megan Perks, who is in the final year of a Physics with Space Science, Master of Physics degree, impressed the judging panel with her achievements, which include securing a highly sought-after internship with the European Space Agency last summer. Megan saw off competition from applicants across more than 20 European Space Agency countries.
She was also praised for her undergraduate research, in particular her contribution to the European Space Agency's Jupiter Icy Moons Explorer (JUICE) mission. Megan was tasked with developing an algorithm to assess two proposed trajectories, investigating the scientific opportunities offered by the different mission plans.
The Alumni Association also recognised Megan's contribution to the University's astronomical society, Astrosoc, of which she is Co-President. In this role, she has been an active fundraiser and most recently secured funding for 22 members of the society to attend the prestigious UK National Student Space Society's National Student Space Conference.
Megan was presented with her award at the Centenary Alumni Celebration, a 1920s-themed occasion attended by 150 alumni and guests to mark 100 years of University and alumni achievements.
She said: "These four years at the University of Leicester has surpassed every expectation that I had. It has been a pleasure to work alongside the incredible staff in the School of Physics and Astronomy who conduct incredible work on a daily basis and have supported me in every way necessary.
"This award is received with a great amount of appreciation, and I am more excited than ever to continue my space-related research career. These are very exciting times for all kinds of space-related research."
Professor Sarah Davies, Pro Vice Chancellor and Head of the College of Science and Engineering, said: "Megan is a truly worthy recipient of the Alumni Association Graduating Student of the Year Award. Throughout Megan's time at the University, she has continued to impress us with her commitment to her subject and the impact she has had on her peers through being Co-President of a student society. She has worked so hard on her year 4 project related to the JUICE mission to Jupiter alongside the Leicester team members.  
"Securing an internship with the European Space Agency was no mean feat and we were delighted with her success. It gave her a unique opportunity to explore the impact of satellite mega-constellations on astronomical observations, a topic of importance to the whole astronomical community, and in which the UK is playing an important role. Megan is a great ambassador for Physics and Astronomy at Leicester and we wish her every success for her future"
The internship saw Megan working with a team at European Space Research and Technology Centre (ESTEC), where she developed a citizen-science project to search for satellite trails in Hubble Space Telescope observations. Her contribution to this work impressed her advisors at ESTEC and, with a paper being submitted to a peer-reviewed journal on the outcome, Megan has been invited to represent the team at the European Astronomical Society (EAS) meeting in Valencia, Spain, as well as an online panel discussing sustainability in space at the EuroScience Open Forum (ESOF) in Leiden, this summer. Read more about Megan's achievements here: https://le.ac.uk/alumni/events/award-winners-showcase/megan-perks