Space Park Leicester's ESA Business Incubation Centre UK welcomes first recruits
A team of University of Leicester researchers undertaking pioneering research using space data have been named as the first successful applicants to join Space Park Leicester's European Space Agency (ESA) Business Incubation Centre (BIC) UK programme.
Dr Nkeiruka Nneti Onyia, who earned her PhD from the University, and Lensa Etefa Jotte, a current PhD researcher at Leicester, have formed LENKÉ Space and Water Solutions Ltd to further their investigations into international water management using space data.
In June 2020, Leicester became the fourth location for an ESA BIC UK centre, which is delivered as a result of UK Space Agency investment in ESA.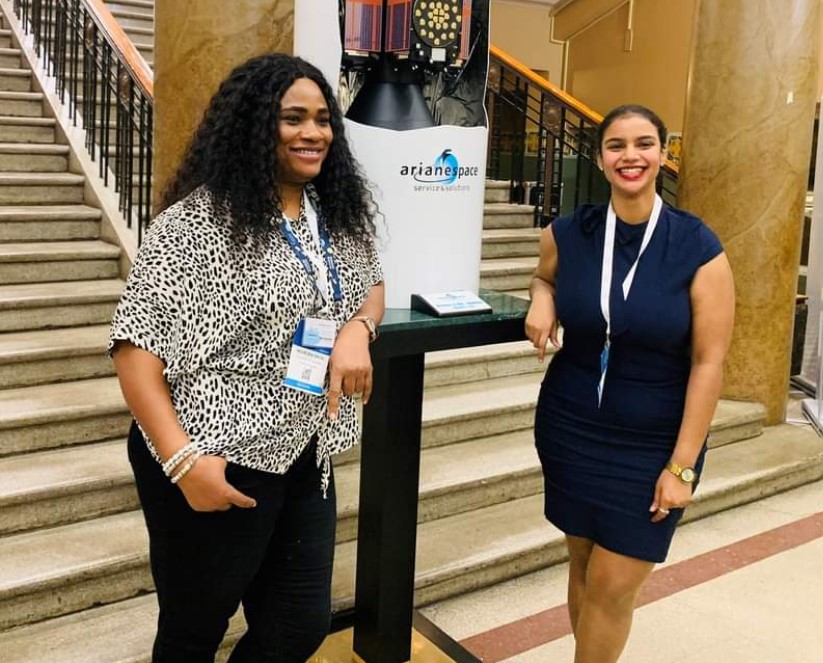 It provides the support and funding for start-up companies to gain a competitive advantage in the space sector, with successful applicants given access to industry-leading business coaching and technical support, as well as legal advice, funding and office space at the new Space Park Leicester site, where Phase 1 is due to open in summer 2021.
Grant Bourhill, Chief Executive of Science Parks at the University of Leicester, said:
"Providing effective access to, and management of, scarce water resources is crucial and is only going to become more important with increasing impact from climate change.
"I am delighted therefore that LENKÉ is working on providing tools and services to provide a solution to this global problem and look forward to welcoming them into the growing Space Park Leicester community."
LENKÉ is a new business with the objective of solving environmental problems using space data. The researchers use datasets from ESA, including data from the Sentinel-2 pair of satellites, plus climate data obtained in the field to identify opportunities for better water management in areas where resources are scarce.
An initial area of interest for the pair's research is the Central Rift Valley, which runs down the eastern edge of the African continent into Kenya and Ethiopia.
Dr Nkeiruka Nneti Onyia, co-founder and CEO of LENKÉ Space and Water Solutions Ltd, said:
"Our focus is on water management and optimising harvests for local farmers, so we are in the process of developing a tool called SWIFT – our Soil Water Index Focus Tool – which helps predict the soil water index order to help farmers decide on the best time to harvest their products and to help decision-makers in the allocation of resources.
"But we are a space company, so we are open to providing solutions to any aspect of the environment by using space data.
"Space Park Leicester is a great platform to bring research and academia together with business, so it's a really good feeling to be in the centre of where academic science meets industry.
"The fact that we are going to be a part of that, and venturing into the industry itself, is really exciting. Space Park Leicester gives us the support system we need to succeed in our objectives."
Lensa Etefa Jotte, co-founder and director of LENKÉ Space and Water Solutions Ltd, said:
"We have previously worked closely with the University's Innovation Hub and Space Park has been interfacing with that, so we've always been aware of Space Park and the benefits it will bring in coming to Leicester.
"But we were especially excited about the ESA BIC competition and part of that is being welcomed into the collaborative space at Space Park to work alongside other start-up companies.
"We're really excited about becoming one of the first members to be part of the new space.
"The fact that we are even in this space, and will find ourselves surrounded by people with similar ambitions who are interested in solving similar problems, can only open our eyes to different opportunities."
Space Park Leicester has been selected as a new centre to offer the successful business incubation programme for start-ups in the UK, run by the European Space Agency (ESA).
The European Space Agency Business Incubation Centre (ESA BIC UK) supports innovative start-up businesses using space technologies or data, enabling them to gain a competitive advantage in today's global market place.
Building on the growing list of companies at Space Park Leicester, from start-ups to multi-nationals, organisations joining the ESA BIC at Space Park will gain access to the University of Leicester's renowned research and development capability across a number of areas including earth observation and environmental monitoring; high performance computing; data science; AI and space engineering.
Grant Bourhill, Chief Executive of Leicester Science Parks and Interim Director Research & Enterprise at the University of Leicester, said: "Leicester has consistently been recognised as one of the best cities in the UK for start-ups and the ESA BIC at Space Park will offer access to state-of-the-art facilities and equipment, partnership working with our academic and student talent, as well as colocation with other companies.
"The space sector already underpins burgeoning commercial markets in communications, location based services and earth observation, and the ESA BIC will support new entrants to these and other space-enabled markets. This is an exciting step forward for the East Midlands."
Opening in early 2021, Space Park Leicester is a landmark international initiative being developed by the University of Leicester in collaboration with partners, including Leicester City Council and the Leicester and Leicestershire Enterprise Partnership, to create a world-leading cluster for innovative research, enterprise and education in space, earth observation and space-enabled sectors.
The space sector globally is forecast to grow substantially during the next decade. A £15bn industry nationally, employing more than 40,000 people within the UK, it supports approximately £300bn towards GDP.
William Wells, Head of Research & Enterprise Partnerships and Acting Commercial Director at the University of Leicester, said: "Successful ESA BIC applicants will join a community of innovative space and space enabled companies at Space Park Leicester. They will benefit from a rich community of researchers and students whose ideas and talents will fuse with their growth ambitions. Businesses will have the opportunity to access financial support, technical expertise and facilities to address the acceleration of product and service development."
The addition of Space Park Leicester marks the first ESA BIC UK location beyond the Science and Technology Facilities Council's (STFC) national sites, joining a UK-wide programme alongside the Harwell Campus in Oxfordshire, Sci-Tech Daresbury in the North West and the Royal Observatory in Edinburgh.
Dr Sue O'Hare, Operations Manager at the ESA BIC UK and Science and Technology Facilities Council, said: "UK start-ups are increasingly using space technologies to create game-changing products, and new technologies that can reduce the cost or increase the functionality of spacecraft and satellites. However, taking a product from initial idea to manufacture and market is a massive challenge.
"The UK is the leading funder in Europe for space business applications, and the addition of Space Park Leicester to our business incubation programme, with its successful track record in space research and industrial collaboration, provides an exciting opportunity to widen our support for start-ups across the vibrant and growing East Midlands space cluster and beyond."